Transit planning
Transit Planning application is where you assign orders to vehicles – the system can simultaneously help you select the most suitable drivers, if needed. Like in Rota Planning, the Transit Planning view consists of assigned and unassigned orders and is equipped with plentiful functions for grouping vehicles and orders. In addition, you see the real-time status of each order when the transit is taking place.
As you make schedules for vehicles, Miles ERP performs a wide variety of inspections and notifies you in case any problems like incompatibilities or scheduling overlaps arise. When assigning an order to a vehicle, the system checks, e.g.:
the required transport capacity
vehicle requirements set by the customer or related to the transport
availability of the vehicle, including

transition times between the current and other scheduled orders as well as optional preparation periods
maintenance status

the availability of drivers that are suitable for the order
restrictions on shifts such as rest periods imposed by the collective agreement
If there are several companies and units in your system, you can assign own dedicated transit planners or managers for each. Also, an order received by one unit can be handled by another, if necessary.
Automatic dispatch
Dispatch to nearest vehicle
With GPS positioning and geocoding of address data, Miles ERP can fully automatically handle incoming orders and dispatch taxi rides: the program searches for a suitable vehicle closest to the pick-up address and forwards the order to the driver. When the driver accepts the ride, the system informs the customer of the estimated time of arrival.
Combined with the instant-booking online form, orders can be delivered directly from the customers to your fleet even without a dispatcher.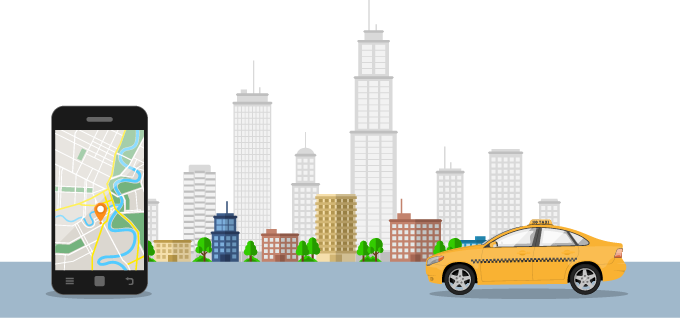 Dispatch evenly
In freight transport, orders can be assigned automatically by turns to vehicles or units, which promotes even distribution of transits. When this feature is activated, your drivers receive incoming orders in turns according to a sequence you have defined. If the driver responds that he cannot take the order, it will be offered to the next one in the sequence.
You can define several separate sequence settings and they can be used to automatically dispatch all or only certain types of orders.